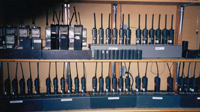 Event Communications Specialists (ECS) is a partnership between Tim Clark and Rusty Schwarz to provide two-way radio communication and related services to organizers of large public events, specifically equestrian and rowing competitions.
While we would be happy to simply supply you radios, our real value lies in the support services that we offer, (and that few radio rental shops do).
We will conduct an on-site evaluation of your venue with an eye towards identifying potential radio communication issues. We can then offer solutions from our toolkit of temporary antenna masts, high-power base units, repeaters, etc.
We will analyze your organization and methods of operation to develop with you a customized Radio Plan. This document assigns each radio user a home channel based on their job function. Key personnel will have a copy of the channel assignments so they can easily locate a user on a different 'net'.
Finally, we will work with your organization on-site for the duration of the event. We will issue radios labeled with the user's name or function and collect radios for recharging. In the unlikely event a radio fails or a battery runs down, we will fix it, completely removing the chore of tending to radios from your hands.
Wouldn't you rather spend your time and energy managing your event and leave 'comms' to the "Radio Rambos" of ECS?